LARGE WINDLASSES
The No.2 Windlass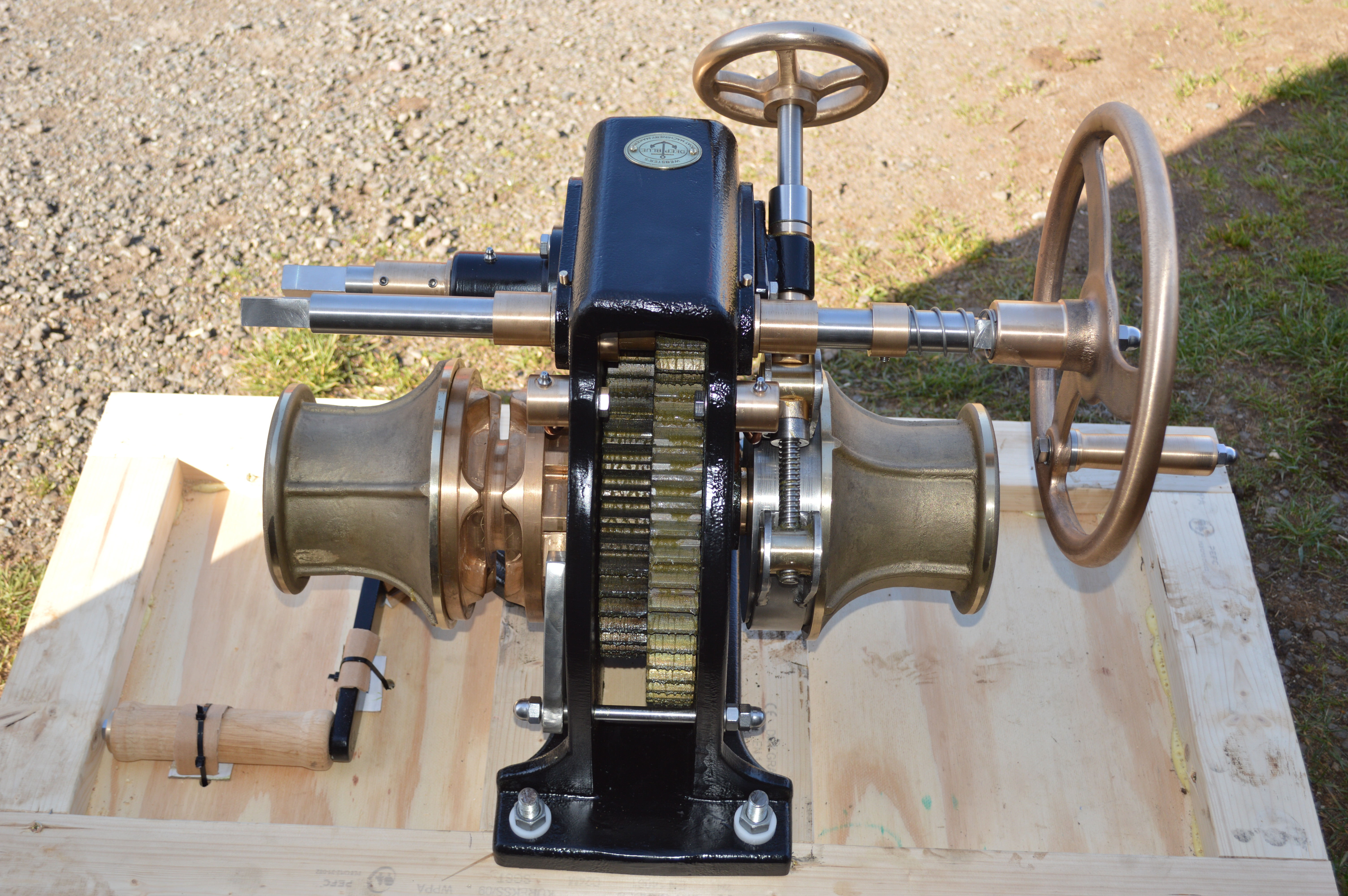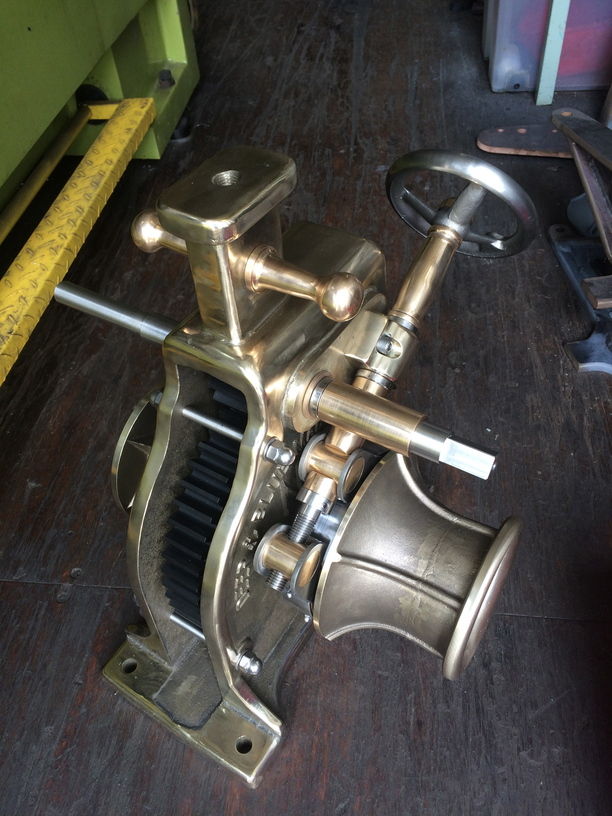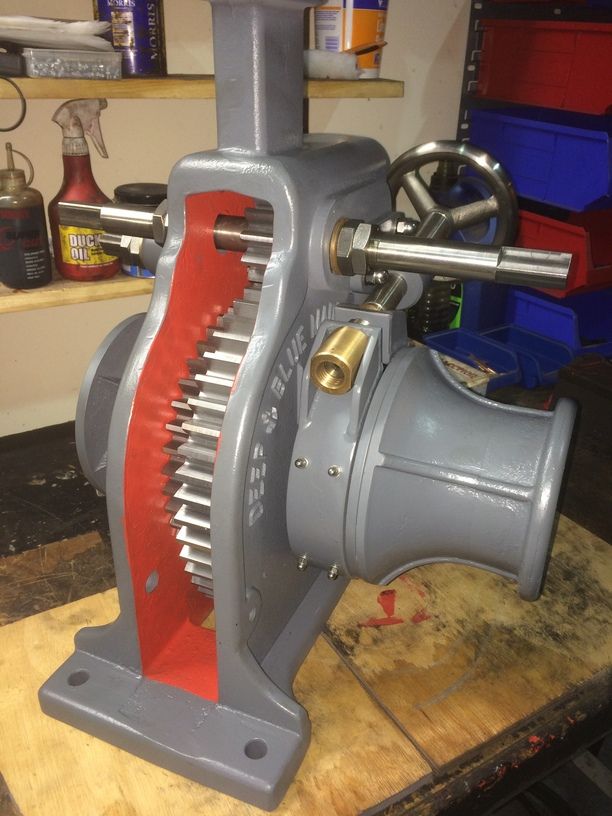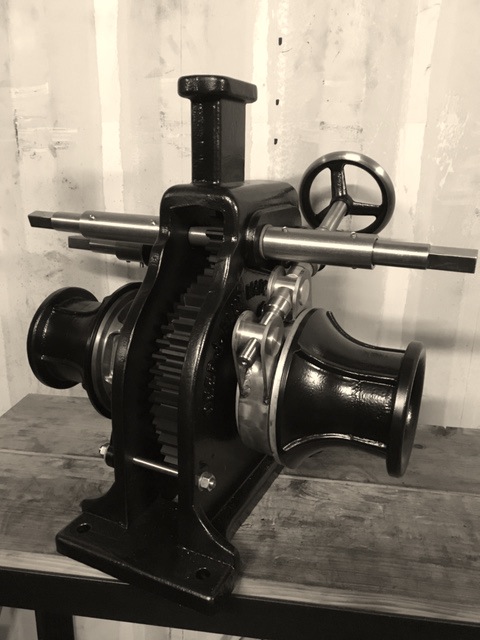 The No.2 windlass body (three images from the left above) provides a robust platform for a wide range of specification options. For heavier displacement vessels such as large yachts and small ships, the No.3 model windlass, pictured to the right (with its cover removed during installation), provides the basis of our 'Heavy Service' range of powered windlasses. Details of the No.2 windlasses are covered on this page, and specifications for the No.3 will be added shorly.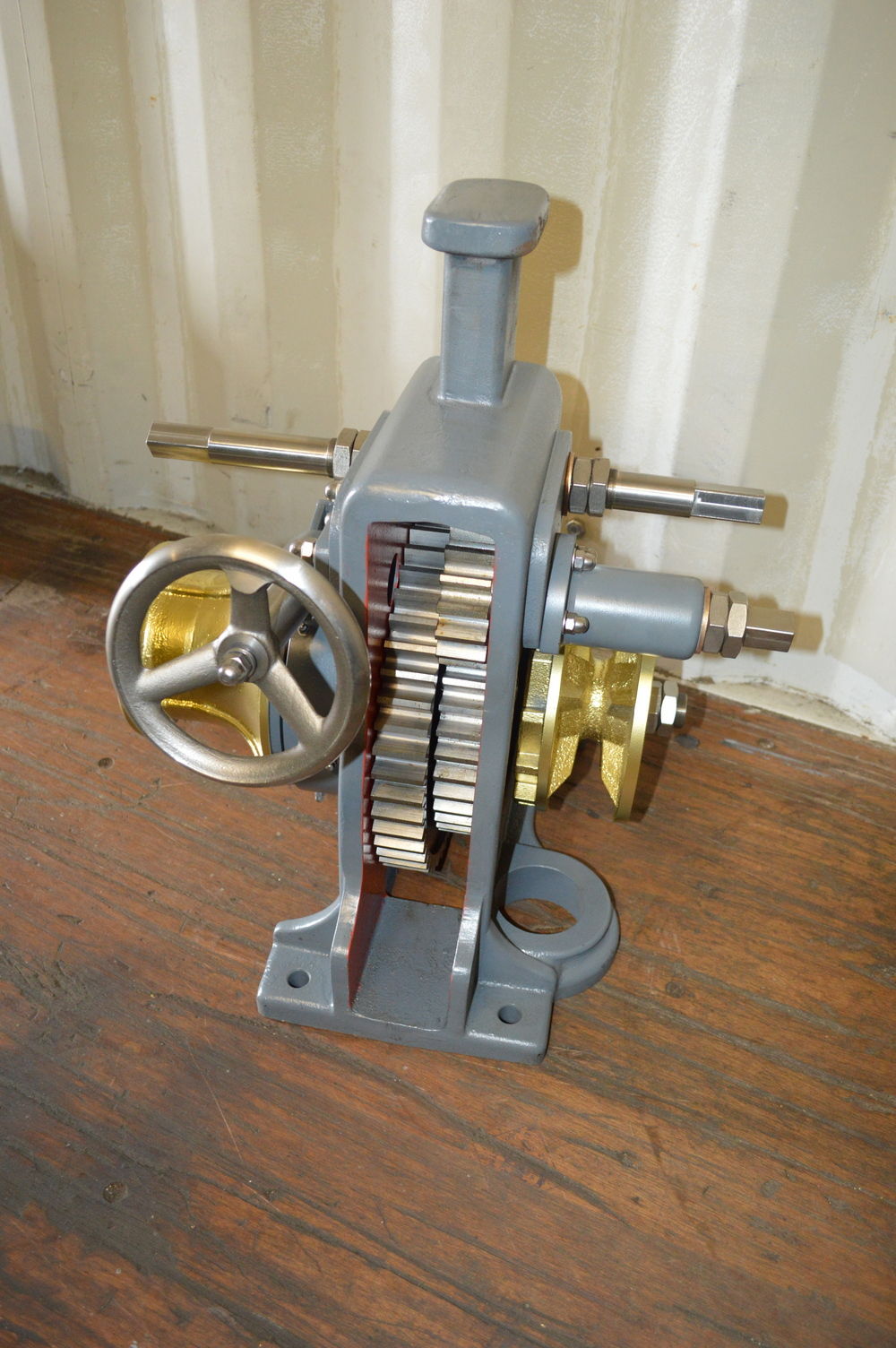 The No 2. windlass is for use with vessels of around 25 to 45 tonnes. The view above shows the compact gear arrangement in the dual ratio specification windlass, in this case with iron body, and bronze capstan/gypsy.
The following is a link to a video, explaining operating and some option details: https://www.youtube.com/watch?v=QUrCdp3lZ9A&t=13s
Dimensions
Height to top of bollard 575 mm
Height to top of body 450 mm
Total length (for and aft) 460 mm
Width (housing/base) 275 mm (including single chain pipe aperture)
Over all width 560 mm (single capstan and single gypsy)
Guide weights
Single ratio lever brake 135.9 Kg
Dual ratio with external hand wheel operated brake 148.94 Kg
Dual ratio, two external hand wheel operated brakes, dual gypsy and capstan both sides 174.66 Kg.
A detailed specification sheet showing dimensions, weights, interface information and installation instructions will be downloadable from this site shortly.
The specification options available are listed below:
Body material: Iron, aluminium or bronze
Paint colour: Ivory, Black or Grey (or for customers own colour choice, any RAL listed colour with an additional nominal charge)
Gypsy size 12, 13 and 14 mm
Gypsy and capstan material, Iron or bronze
Single or dual ratio
*Lever or hand wheel operated brake
*Single gypsy and capstan or dual gypsy and capstan
Manual only, Manual/Electric or Manual/Hydraulic
*With dual gypsy and capstan, windlasses must be fitted with two hand wheel operated brakes and a clutch mechanism fitted to both sets of gypsy/capstan. This is to facilitate independent operation.
Made in iron, and in single ratio work boat trim, the No.2 windlasses start at £3500 and increase in specification and price, to a bronze single ratio windlass for around £5750 and then through to a bronze dual ratio variant with two external hand wheel operated brakes, gypsy and capstan both sides, with clutches both sides to facilitate independent operating. These higher specification No.2 windlasses cost around £11,900.
The No.3 Windlass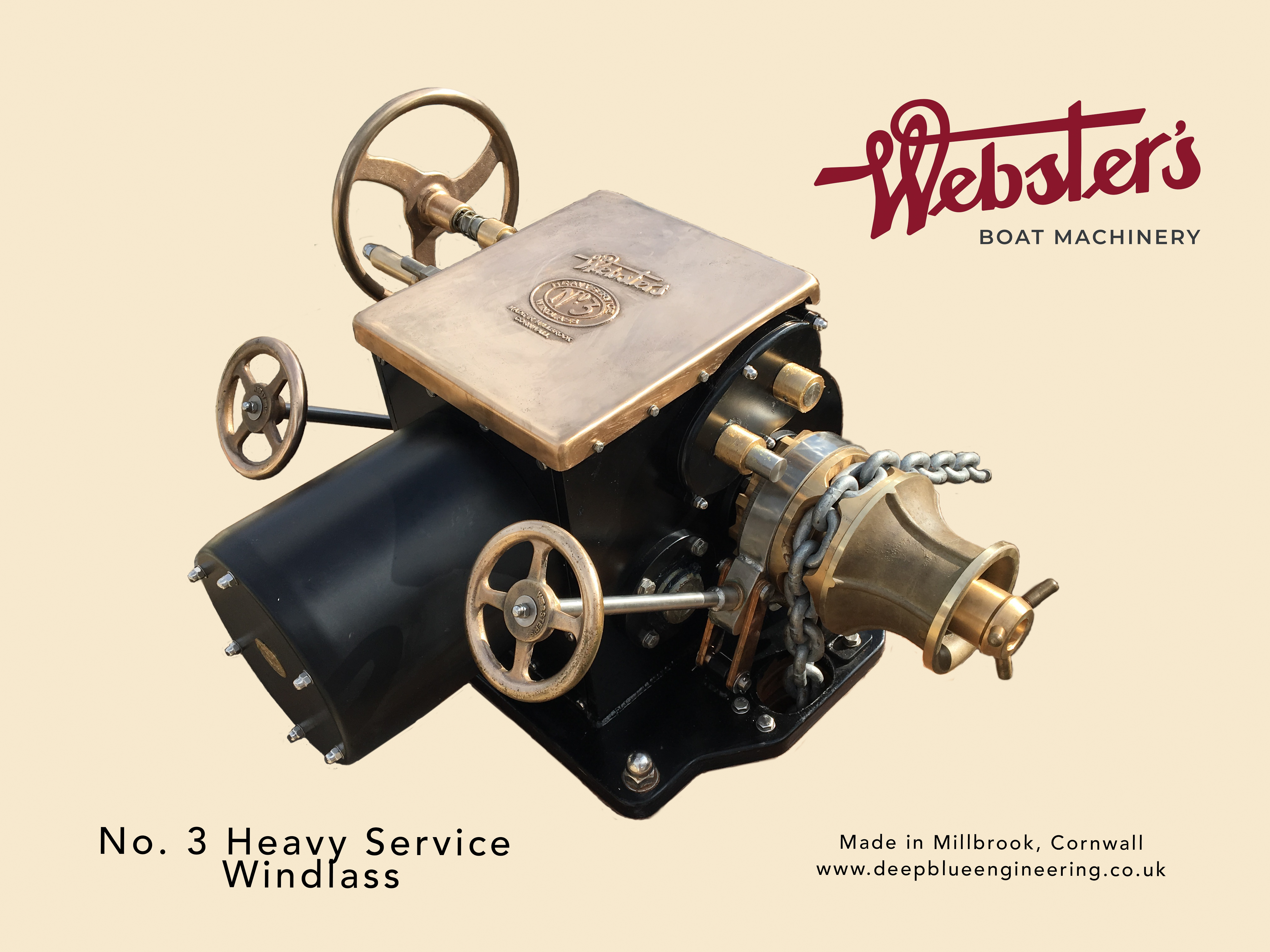 The No.3 Heavy Service Windlass
This windlass is for use with larger pleasure craft and small ships. It can be supplied to operate with electric or hydraulic power, with a wide range of options.
The Electric Drive Unit (EDU)
Our manual windlasses can be powered using a Deep Blue EDU (electric drive unit). The EDU consists of an electric motor and gearbox. The manual windlass can be supplied ready to accept an EDU, or an adapter kit can be suppied along with the EDU in order to add a power capability to an existing manual windlass.
The specifications for these units vary; motor voltage can be 12 V, 24 V DC or 110 V and 240 V AC , gearbox ratios can deliver a range of RPM/torque to the main shaft (gypsy and capstan).
To specify a suitable EDU, please contact us or let us know you require an EDU at the time of purchasing your windlass, and we can build the EDU you need.
To see a video of an EDU being used: https://www.youtube.com/watch?v=3aI3cNcgmNw
Prices for an EDU are around £850 + VAT. They are housed within a hard case for stowage. When the EDU is needed, it is attached to the windlass, by slipping the female gearbox drive over the windlass input shaft, then securing a torque arm, which also forms part of the EDU, to the windlass body. The installation and removal after use, take less than a minute. The EDU is relatively lightweight, ranging from around 8 Kg for the smaller windlasses, up to 16 Kg flor the large windlasses, depending on the power requirement and motor type.
The Deep Blue EDU can be used with any manual windlass. Provide us with details of the input shaft profile and we can supply an adaptor and EDU for existing, older windlasses.
Photographs of an EDU and links to footage of the EDU being operated will be added to this website shortly.
Electric and Hydraulic Windlasses
Windlasses made with integral power units, either electric or hydraulic, will currently be made to order, to meet a customers' requirements. The manual windlass capability remains fully functional, with no compromise when a motor is fitted. The appearance of the windlass is not dramatically affected either, retaining a traditional appearance. The motor and gearbox can be positioned below deck with a drive running vertically up into the windlass above deck, or a motor and gearbox can be mounted above deck as an integral part of the windlass.
Please contact us to discuss your requirements.